Enriched VIN data for the aftermarket
Traditionally, there is a knowledge gap between the car manufacturers on one side and the independent aftermarket on the other. Just take the equipment data available to manufacturers based on the chassis number. Indrajeet Mitra, founder and CEO of AutoDAP,wants to provide an answer to this and talks about his plans and ambitions. Text Barend Luiting
Kari Salmu (Head of ICT at Örum Oy Ab.): "AutoDAP data has brought our online catalog to a new level. We are well on our way from having the worst catalog in the automotive aftermarket to having the best catalog in the automotive aftermarket. One of our key business values is partnership, and we want to be the best partner for car services and spare part distributors in our market area. Using the AutoDAP data helps us to achieve this goal by making the best catalog but also by having the right products for the carpark in our market area."
By definition, the car manufacturer or the OEM has all the information about that specific vehicle. This is includes information about the standard, optional and excluded equipment fitted on the vehicle at the time of delivery to the end customer. Although, by law the OEM are obligated to share this information with the aftermarket in line with the fair competition laws of Europe it is very difficult to get this information in a properly usable systematic format. Due to this the aftermarket does not have access to the complete vehicle details. When a workshop wants to repair a vehicle it orders all the parts compatible with the repair need rather than the exact part needed for that repair creating unnecessary return flow and ultimately increases costs for everyone in the overall supply chain. And this is just a small example, because the data gap is experienced widely in the industry."
The solution as AutoDAP has developed in recent years is more than just a crosslinking of available datasets. "In our view, the available data sources from the independent aftermarket are not sufficiently complete. In theory, cross-referencing the VIN data from car manufacturers should be sufficient. Practice, however, is much more difficult than you might think. It starts with inking the data sets within a stable environment. Then you want the information to be offered in an unambiguous way, but that does not apply to the source data. Once you have that in place, there is always another party who will introduce a system update that affects everyone who works with it. In short, there is a complexity between idea and implementation that many people do not think is possible.
SOLUTIONS
PARTS SELLERS
For this reason, AutoDAP is for the time being limiting itself to the target groups it wants to serve with its solutions. It all starts with VIN Precise Vehicle Identification: identifying the vehicle as precisely as possible on the basis of the registration number and chassis number, in order to optimise the correct parts accuracy. Subsequently, based on this data and supplemented with additional sources, OE-specific data regarding parts, repair and maintenance can be offered. Virtual dismantling goes a step further. By having access to the data of a vehicle and linking it to part prices, a valuation of the vehicle can be provided if it were to be sold in parts. It also offers the unique ability of being able to perform virtual dismantling of a vehicle allowing a dismantling yard to maximise the reuse potential of it car parc.
DAMAGE ASSESSMENT
Such techniques, in combination with artificial intelligence (AI), can also be used to assess used cars or damaged vehicles. "There is actually no limit to the use of the data sources, you can think of many useful applications. For us, it is important that we can keep our promises under all circumstances. Behind the scenes, therefore, we have been working hard in recent years on the technology to prove ourselves in specific scenarios." One such scenario prompted umbrella organisation CLEPA to award AutoDAP with the second prize in the environment category at the Innovation Awards 2020. The enriched VIN data simplifies the identification of car parts. By using this information for dismantling vehicles, the parts can be reused quickly and efficiently. This is in line with the idea of the circular economy, where reuse is encouraged. "There is a need to extend the life of parts and thus reduce costs (TCO) for consumers," CLEPA said in the jury report. "The identification system bridges the gap between the list of possible parts and the VIN-specific accurate parts list."
DISMANTLING
And it doesn't just stop at fine words. In Finland, AutoDAP has run a pilot with a car dismantling company where an average of about a thousand cars are kept in stock to be sold in parts. What remains is recycled, thus contributing to the circular economy.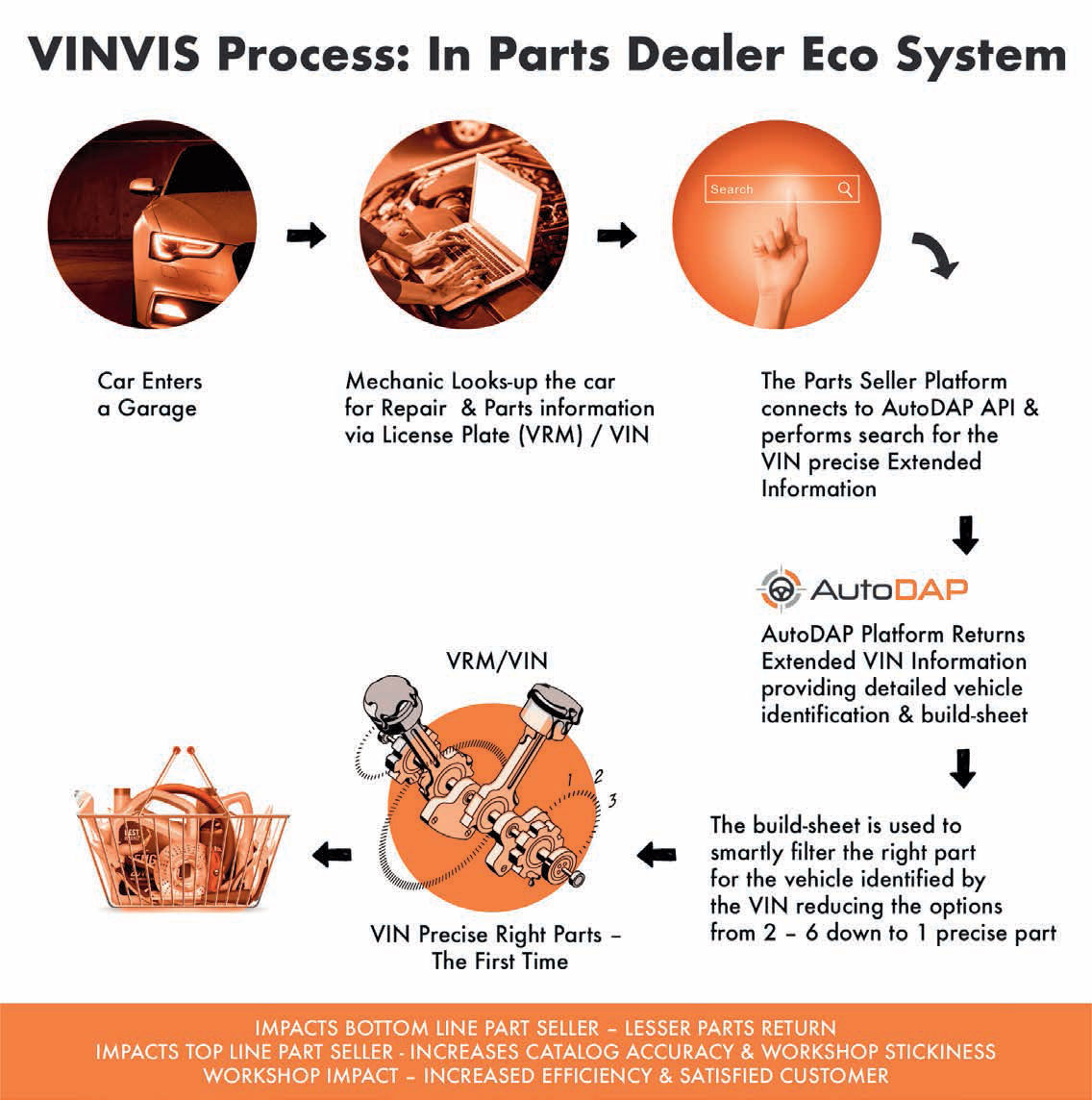 "Our software makes it possible to identify the car on a VIN basis as soon as it arrives. This makes stock management a lot easier for the car dismantling company. In addition, e-commerce has become a lot easier: customers of the company can quickly see which relevant parts are available and at what rates. For the car dismantling company, estimating the residual value of a vehicle on the basis of the part prices has become a lot easier." A not to be underestimated element here is known as cross-referencing. "Car parts are used by various manufacturers, but everyone uses their own product numbers. We have the data to be able to say which other applications the component has. In the example mentioned of the car dismantling company with a web shop, this is of unprecedented importance. But, again, the possibilities are much broader than this scenario alone." At the time of writing, AutoDAP, according to Mitra, has a dataset with 43 car brands, thus covering 87 percent of the European fleet.
Veli-Matti Jalonen (Founder & CEO Green Source): "AutoDAP has played a crucial role. You couldn't achieve something like this with just anyone. When we started we scanned different options, but AutoDAP – with their automotive experience, solutions and innovative team – felt like the best option. They have delivered, and I also feel we share the same vision. This is a clear example of how digital transformation can change the whole marketplace."
AutoDAP B.V., registered company at The Netherlands, a smart data product company in the automotive aftermarket, under the umbrella of The Gateway Group of Companies. AutoDAP, provides API driven DaaS Subscription for the Automotive Aftermarket. Owing to our extensive knowledge and a unique understanding of the European automotive market, we help businesses transform faster by providing accurate and effective data that leads to improving the process efficiency, minimizing risks and improving profitability.
Latest posts by autodap_admin
(see all)